Meet Dr. Tyan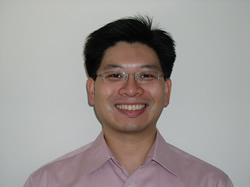 Dr. Tyan received his bachelor of science degrees from the University of California, Irvine in the fields of biological sciences and mechanical engineering. Dr. Tyan then earned his Doctor of Dental Medicine degree (D.M.D.) from the University of Pennsylvania in 2001. After graduating from dental School, he attended Virtua West Jersey hospital and received his certificate in General Practice Residency in 2002. Dr. Tyan was then trained and received his Orthodontic Specialty Certificate from the St. Barnabas Hospital affiliated with Weill Medical College of Cornell University in 2005. Unlike most orthodontists who have very little background education in physics, Dr. Tyan's background in mechanical engineering really allows him to have a more in depth understanding of the physics principles in orthodontics and to provide more efficient treatment for his patients. Dr. Tyan is a certified provider with the Invisalign and Clear Correct Clear Aligner Systems. He is also a certified provider of the Harmony lingual braces system.
In September 2007, Dr. Tyan opened his office in Plainsboro to serve the residents in central NJ. His office is equipped with latest dental technology such as digital x-ray and digital computer cephalometric tracing software to assist in analyzing patient's problem.
Dr. Tyan is a member of the American Association of Orthodontists, Midatlantic Association of Orthodontists, and New Jersey Society of Orthodontists.

---
Practice Philosophy
Dr. Tyan's practice philosophy is to provide high quality care for his patients by giving each patient the attention he or she deserves at each visit. We achieve this goal by keeping our practice small and do not over schedule patients. According a 2009 Journal of Clinical Orthodontics study, an average orthodontic practice in the United States sees about 45 patients per day. Many of these offices have 6 or more treatment chairs and the orthodontist delegates just about everything to dental assistants. Many patients describe this type of practices as factories or conveyor systems. Dr. Tyan has worked in this type of practices before and recognizes the difficulty to provide high quality of care in this type of high volume practices; as a result, we limit our office to see no more than 25-30 patients per day to ensure the highest quality of care for you or your child.